Bay Residences – Best International on the Boards Project (Gold Nugget Award)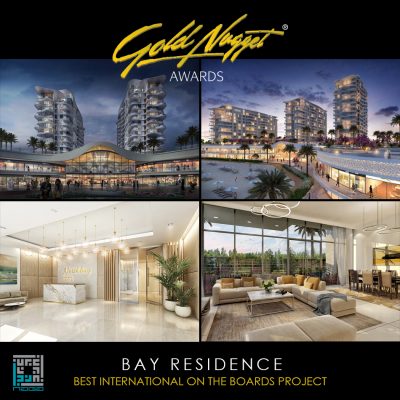 Dubai, July 8th — Judges for the 2018 Gold Nugget Awards have named NAGA Architects as an Award of Merit winner in its annual competition, which honors architectural design and planning excellence and draws entries from throughout the United States and internationally. NAGA earned its Merit honors for The Bay Residences In Ras Al Khaimah , which was honored for Best International on the Boards Project.
Chosen from the elite pool of Merit Award winners, Grand Awards will be announced on June 28 as a feature highlight of PCBC®, the nation's largest regional conference and trade show for the real estate development field. Call 800-658-2751 or 909-987-2758 for more information.
Located in Ras Al Khaimah, Bay Residences is a 1229168 SQ.FT project located in Hayat Island Ras El Khema UAE. The project contains 4 residential towers, 16 townhouses, retails, line shops and restaurants. Comprising one, two and three bedroom apartments as well as duplex units and flower gardens opposite each townhouse cluster. A common amenity deck with two swimming pools and a 300 S.Q.M gym with a direct beach view. The development houses 585 residential units focusing on functionality and modernity. Inspired by the beach line and rich site topography, the Design takes to heart the level difference and showcases the site's unique identity. See the Gold Nugget Awards website "Gold Nugget Award winners reflect our industry's best, brightest and most innovative architects, planners and builder/developers," said Judging Chairman and Gold Nugget ceremonies administrator Lisa Parrish. "We applaud them all, and we forward to our June 28 celebration of Merit and Grand Award winners."
Now in it's 55th year, GNA is the largest and most prestigious competition of its kind in the nation. It honors design and planning achievements in community and home design, green-built housing, site planning, commercial, retail, mixed-use development and specialty housing categories. Winners this year were chosen from over 600 entries from around the world.